Performance Carb Kit
Wood Performance Leader in Dyno-Tested High Performance Carburetors
Guaranteed to out-perform any aftermarket carburetor.
This carburetor kit is built just for your 88" Indian.
Best carb on the market to self-adjust to altitude and optimize fuel economy.
This 40.5MM Keihin carburetor has had the following work performed to it.
Bored & Blueprinted for Maximum Performance.
Timed idle transfer slots, No more acceleration flat spots.
Can be built for whatever size motor you may be running additional charges may apply.
Viton Needle & Seat Will Flow Over 12 G.P.H.
Mil-C 5541 Chemical Coating.
New top quality gaskets and O-rings.
Modified MV Slide.
New throttle cables will need to be purchased separately.
We have sold, installed and dyno tested many of these and they work!
Kit is complete with new air filter back plate, with improved crankcase breather bolts
that will use your existing air filter and Indian cover.
$1,262.00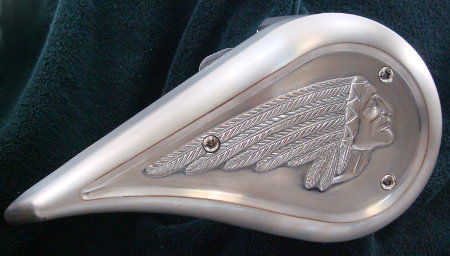 Utilizes the factory air cleaner cover.
Easy to access the choke